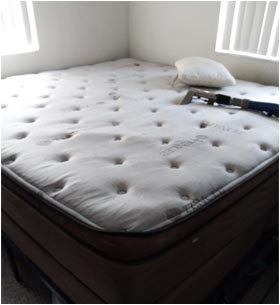 Does your mattress need some cleaning?
After a long day at work or maybe even at home trying to achieve your goals for the day, you will be feeling so tired, so that all you want to do is take a warm shower and retire to bed. One thing you don't know is that even though your mattress feels so warm and comfy, it can be a storehouse for contaminants and pollutants. Perhaps that's the reason your flu seems to be getting worse or takes longer than expected to come to an end.
That's why you need to clean your mattress, and we all know that mattress cleaning one is not a walk in the park, which means you most certainly need a hand - a big one for that matter.
Unmatched Mattress Cleaning In Fort Lauderdale FL
Tell you what, though? You're lucky you won't have to break your back trying to get your mattress clean since Tulip Carpet Cleaning Fort Lauderdale is here for you. We offer the best mattress cleaning services you can get in town, and no mattress is too big for us to clean.
Enough with the self-praise, let's get to some serious business and break down why our services are the best:
Industry-leading equipment
Mattress cleaning is not such an easy task as stated earlier, especially when you don't have the right tools. Things like mattress stain removal require not only much time but special tools to get the job done. As such, we have acquired state-of-the-art equipment to guarantee you that every task you trust us with is completed in the best way possible.
Time efficient mattress cleaning
You are used to sleeping like a king or queen, and we don't want to disrupt your comfortable sleep. That's why we clean your mattress as fast as we can so we can get it back to you in the shortest time possible.
Best cleaning methods
The most crucial step of cleaning your mattress is first inspecting it to determine the most effective procedure. After we are done with the inspection, we use an array of techniques including UV treatment to rid the mattress of any unwanted material embedded in it. When cleaning, our main aim is usually to ensure that your mattress not only looks new but has a sweet, soothing scent that can help you sleep better through the night.
Effective results
When we boast about being the best mattress cleaning service near you, we mean it. We don't offer shady incomplete cleaning services so that you can come back to us more often, though we want you to choose us over others when you need such services. As such, we thoroughly clean your mattress so that you are guaranteed effective, long-lasting results.
We clean all sorts of mattresses
When you seek for mattress cleaning nearby, you expect that the company can clean whatever type of mattress you have - that's exactly what we do. Whether you're seeking for king size mattress cleaning, queen size mattress cleaning, or whatever mattress cleaning - related service, you can be sure of getting it from us.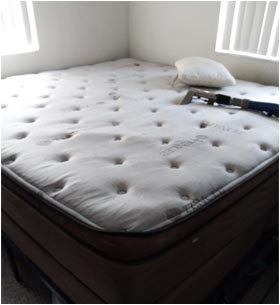 Is that all we've got?
That's definitely not all we can offer. Rely on us when you need cleaning your rugs and carpets, boat cleaning, pet stain and odor removal, sofa and couch cleaning. There's always something new to make you smile at Tulip Carpet Cleaning Fort Lauderdale. Besides, we are bonded, insured, and certified, so you are guaranteed that you are dealing with some of the best professionals you can ever interact with. We also have technicians on our team who can meet your needs for mold testing and mold remediation services. What's more? We have no problem giving a free on-site price estimate so that you can create your budget. One last thing, our mattress cleaning prices are budget-friendly, so don't fret that you might have to pay a fortune.
We are here for you, anytime
Please don't wait any longer, as we have the services you seek to make your sleeping better and healthier. There is no better time than now, so contact us today for a free estimate and high-quality service that you will remember for a long long time: 305-349-3994