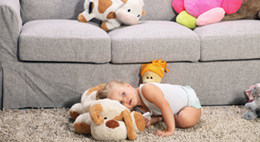 Carpet Cleaning Services in Fort Lauderdale
Tulip Carpet Cleaning Fort Lauderdale are essential if you want to completely clean and disinfect your carpet. Our professional carpet cleaners use powerful vacuums and cleaning equipment to remove tough stains and dirt. We ensure that the cleaning is done correctly and that every customer is satisfied, so call our professional carpet cleaners today!
We have a lot of satisfied customers from the Fort Lauderdale & Miami area. Our experienced carpet cleaning experts are doing their best to keep them satisfied, that's why most of our customers prefer our carpet cleaning in Fort Lauderdale services over dozens of others in the Miami area.
Professional Carpet Cleaners
Fort Lauderdale residents can safely and effectively have their carpets cleaned by our professional carpet cleaners. Techs use steam cleaning to remove stains and thoroughly clean carpets. Steam is the most preferred carpet cleaning method because it deeply penetrates carpet fibers while dry cleaning does not. It is less likely that stains will reappear after a steam cleaning because they are removed from deep in the carpet rather than from the surface. Professionals also offer pre-treatment solutions for extremely tough stains. Hot steam is then injected deep into the carpet to extract the cleaning solutions moisture, residue and dirt.
Truck Mounted Vacuum Cleaners
Professional carpet cleaning harnesses heavy-duty truck mounted vacuum cleaners to remove dirt and stains from your carpet. These high-powered machines heat steam to around 260F degrees which extracts and kills most bacteria, dust mites and other germs that are in your carpet. These steam cleaners are 100% safe and do not use any toxic chemicals. Truck mounted vacuum cleaners also rinse your carpet so if a cleaning solution was used it will not leave any residue behind. They remove all the cleaning agents, grime and dirt so your carpet will be soft, fluffy and it will stay clean longer.